The Lions Nordic Cooperation Council NSR is a cooperation body of the Lions organisations in the Nordic countries. NSR was founded in 1962, and has arranged annual meetings since then. The Nordic countries - Denmark, Finland, Iceland, Norway and Sweden - cooperate on several areas, including development projects and representation at the International Convention.
NSR 2024 is hosted by Lions Norway and will take place at Quality Airport Hotel Gardermoen, January 19-21 2024. The meeting is open for all Lions-members.
In order to grow in membership, a strong sense of commitment and loyalty to the organisation is important. This is the core message of the theme ONE LIONS. At the NSR meeting in January, we will all discuss this topic from different angels.

Speakers
There will be two special guests attending NSR this year.
"Voluntary work into a new and more troubled time"
The keynote speaker on Friday is Knut Storberget, a Norwegian lawyer and politician for the Labour Party. He is currently serving as the county governor of Innlandet since 2019. He previously served as Minister of Justice under Jens Stoltenberg from 2005 to 2011. He has also been the chairman of the Norwegian Defence Commition who presented its report in May 2023. At the NSR-meeting in Januarty, Storberget will speak to the Lions about "Voluntary work into a new and more troubled time".
Foto: Statsforvalteren i Innlandet/Kristina Skamsar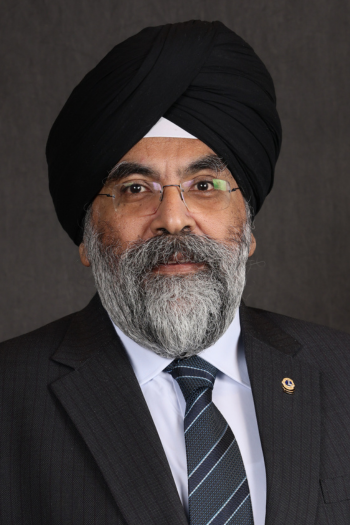 "GMA in the Nordic countries and Mission 1.5."
From Kolkata, India comes our second vice international president A. P. Singh and he is a guest speaker on Saturday. A. P. Singh is an excellent motivational speaker. His favourite topic is membership growth and retention and he has served as GMT international coordinator for four years. He is accredited with the initiation of various service programs in collaboration with other trusts, foundations and corporate houses. He has worked on establishing a web-based Lions leadership development platform, a micro-finance program, and has organized multiple large-scale online events to keep Lions engaged.
In addion to listening to these amazing speakers, you are encouraged to engage in seminars and workshops with fellow Lions. There will be lots of opportunities for interesting discussions and networking in this international Lions forum. You are most welcome!
Preliminary agenda
Friday 19th
09.00 – 11.00 Closed meetings for those arriving on Thursday

11.30 – 12.30 Lunch

13.00 – 14.00 Opening ceremony

14.00 – 15.30
Seminar

HUMANITARIAN WORK INTO A MORE TROUBLED TIME - WHAT NOW LIONS?
Voluntary humanitarian work into a new and more troubled time.
v/County governor Knut Storberget, former minister of justice and Chairman of the Defense Commission
Dilemma and ethics in humanitarian work in a war zone. Practical example and reflection.
v/Stefan Soos MD-YCEC
Ukraine Aggregator Aid Project
v/ PDG Björn Hägerstrand
Group discussion: What role can and will we as Lions take?

16.00 – 17.30 NSR Meeting. Discussions.

20.00 – Dinner at the hotel

Saturday 20 th
09.00 – 11.30
MISSION 1.5 - OUR NEW GLOBAL CAMPAIGN
Guest speaker is our International 2nd Vice President, A. P. Singh.
GMA in practice – on the road to 1.5
v/president Terje Ringstad LC Ringsaker.

The club recruited 10 new members last year and have grown from 30 to 40 members.

Mission 1.5 in the Nordic countries
11.30 – 12.30 Lunch

12.30 – 15.00 NSR for the future – One Lions. Workshops
15.15 – 15.35 News from Lions International
v/International Director Pirkko Vihavainen
15.45 – 16.45 NSR Council Meeting. Voting
17.00 – 17.15 Presentation of Lions Europaforum in Bordeaux
v/ Nicole Miquel Belaud
17.15 – 18.00 Closing ceremony

19.00 – Gala Dinner at the hotel
Sunday 21th
09.00 – 11.00 CC Meeting and summary.
Other meetings can be arranged by request.
Registration
Registration is open until December 15th 2023.
Follow this link:: https://arena360.no/Events/3367/8718?pane=About